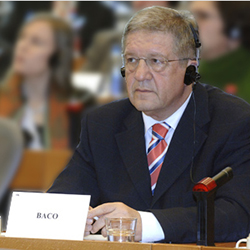 born 9. apríla 1945, Opatová nad Váhom
current location Trenčín
mother tongue Slovak
2007 Slovak University of Agriculture in Nitra, Faculty of Economics and Management – PhD.
1968 Slovak University of Agriculture in Nitra, Faculty of Economics and Management – Ing.
1963 High School of Agriculture in Skalica, Department of Agricultural Economics
1994 England, focus on consulting and financing in agriculture
1983 Canada, focus on the application of scientific – technical progress in agriculture
2010 – present Agriculturalist, Member of European Former Members Association, Member of Slovak Academy of Agricultural Sciences, Shareholder of Czechoslovak Society for Modern Agriculture, Member of Futurology Association in Slovakia, Member of Civil Futurology Association in Prague, Member of Club of Agricultural Experts at Slovak University of Agriculture in Nitra
2009 – 2010 Senior Advisor of Ministry of Agriculture and Rural Develompent of the Slovak Republic
1992 – 1998 Minister of Ministry of Agriculture and Rural Develompent of the Slovak Republic
1986 – 1990 Director of the Department of Science and Technological Development
1972 – 1985 and 1990 – 1992 Chairman of Uniform Agricultural Cooperative Nemšová
1970 – 1972 Zootechnician in Uniform Agricultural Cooperative Pobedím
1968 – 1970 Assistant Director of State Property Ilava
Reading skills: good
Writing skills: good
Verbal skills: good
Reading skills: good
Writing skills: good
Verbal skills: basic
Reading skills: basic
Writing skills: basic
Verbal skills: basic
Social skills and competences
2004 – 2009 Member of the European Parliament
1998 – 2002 Member of the National Council of the Slovak Republic
1992 Member of the Federal Assembly of the Czechoslovak Federal Republic
During my parliamentary activity, I have always worked in the Committee of Agriculture.
Organisational skills and competences
1993 – 1998 President of the Society of Japan – Slovak friendship
1990 Founder of the Slovak Agricultural Chamber
1989 – 2002 Founder of the Slovak Agricultural Bank (first private bank in Slovak Republic)
Presentations on current topics of agro resort in European Parliament, OECD, FAO, CEFTA and National Council of the Slovak Republic.
Lectures at universities and professional forums on the issue of management of agriculture, rural development and agricultural policy.